Paqell B.V.
Frames and Paqell Sign Licensing Agreement for Desulphurization Technology
Monday, 05 August 2013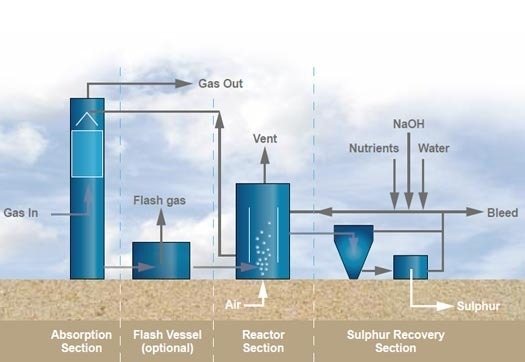 ALPHEN AAN DEN RIJN (NL) - Paqell B.V. and Frames Gas Processing B.V. have entered into a licensing agreement for THIOPAQ O&G desulfurization technology.
This agreement adds THIOPAQ O&G technology to Frames' gas treating portfolio, enabling Frames to offer sulfur recovery technology to their customers, thereby providing complete sour gas solutions.
THIOPAQ O&G technology offers an environmentally friendly way to remove H2S from high or low pressure natural gas streams or associated gas streams and convert it into elemental sulfur. This cost-effective system uses low energy and requires minimal effort to operate.
"The simplicity and effectiveness of the THIOPAQ O&G technology aligns with Frames' core business philosophy of designing and building technologically advanced high quality process & control systems," says Chris Klukkert, Business Unit Manager for Frames Gas Processing B.V.
"As Paqell's technology is seeing a breakthrough at the beginning of 2013, we sought a new international partner who is able to not only design but also construct Thiopaq O&G plants" said Paqell M.D. Joost Timmerman. "Frames' ability to build complete integrated solutions with a focus on sustainability adds value and brings more flexibility in the offering to our clients."
Paqell B.V. is a joint venture of Shell Global Solutions International and Paques B.V. which was established in 2011 to focus efforts on the marketing of biological desulfurization in the oil and gas sector for gas applications.
Frames is an international provider of innovative process & control systems to the international upstream oil & gas industry.
© Paqell B.V.