BlueLevel Technologies, Inc.
Cable Extended RF Admittance Level Probe Reaches Great Depths
Wednesday, 17 April 2013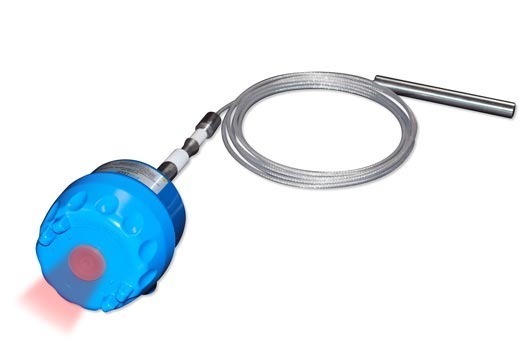 STERLING (US) - "Many point level sensor applications require top mounting on a bin while the sensing point is from several to over twenty feet from the top of the bin mounting point, which is why The Model AP/APX line of RF Admittance point level sensors includes a rugged and flexible cable extended probe version", says Joe Lewis, Managing Director of BlueLevel Technologies, Inc..
This flexible extended length version of the Model AP/APX RF admittance point level sensor uses a rugged ⅛" diameter stainless steel cable. To aid in the shedding of material from the cable a Teflon coating has been added, which has an extremely low coefficient of friction. The cable exceeds 1500lbs of tensile strength and can be provided in lengths typically up to 25 feet (7.6m), or more.
Model AP/APX cable extended RF admittance point level sensors can withstand internal bin temperatures up to a maximum of 302⁰F (150⁰C) with a maximum internal bin pressure of 284psi (20bar). The Model AP/APX RF admittance point level sensor can be used for high, low and intermediate level control applications of liquids, slurries and bulk solid materials.
The cable extended Model AP/APX RF admittance point level sensor is available include integral electronics with a universal 20-255VAC/VDC power supply and is available with either Ordinary Location or Explosionproof enclosures. The Model AP for ordinary locations includes a large locally visible LED indication of the normal and relay alarm status of the sensor. Other features include a DPDT relay output fail-safe on power failure, adjustable time delay, remote test input, a simple 2-step calibration function, NEMA Type 4X powder coated enclosure and a ¾" NPT stainless steel process connection for most probe configurations (other size connections provided or may be available). The Model APX is an explosionproof version (certification is pending).
© BlueLevel Technologies, Inc.