V&T Group BV
V&T Group / Fiber Filtration Delivers to the Swedish Navy
Thursday, 15 November 2012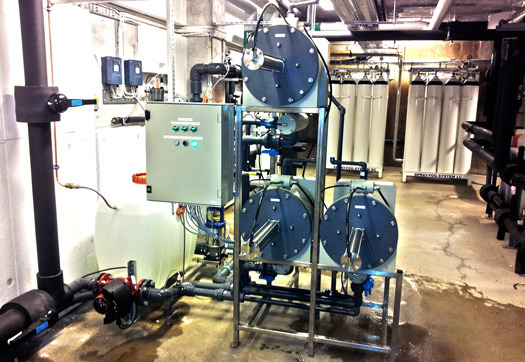 NUMANSDORP (NL) - V&T Group has delivered a self-cleaning 3 micron system to the Swedish navy through its distributor, Aqua Drip AB, in Sweden.
This self-cleaning MT-IBA system, produced by the V&T production facilities in Hungary, has replaced the old bag-filter system. The navy wanted to replace the bag-filters because of the many handlings and the returning costs. The navy evaluated a few possible solutions and the MT-IBA system from V&T Group appeared to be the best product. The system is automatically self-cleaning, filters on 3 micron, consists of multiple filter housing units, which clean themselves separately from each other, so the operation of the filtration system never has to be interrupted and the installation space is minimal. Especially the last subject was of great importance to the Swedish navy, because there was very little space available and the entrance to the room was limited.
This room is located in the diving centre. The by V&T Group supplied system filters 9 m3/h of the training basin where the Swedish dive specialists undergo their intense training.
At the moment, the navy is considering to buy a second MT-IBA system with a larger capacity for another basin.
© V&T Group BV