MAHLE Industrial Filtration (Benelux) B.V.
MAHLE Industrial Filtration Protects the Oceans with Ballast Water System
Friday, 12 October 2012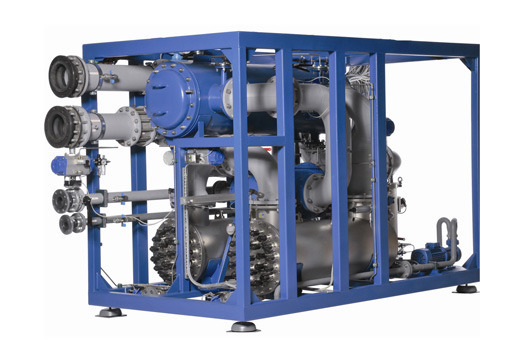 STUTTGART (DE) - The problem of spreading microorganisms through ship ballast water has gained attention at the International Maritime Organization (IMO).
Starting in 2012, and no later than 2014, regulations will be in force that require all oceangoing ships to have a certified installation for treating their ballast water. The goal is to prevent the spread of nonnative organisms. Since April 2011, MAHLE Industrial Filtration has had type certification—issued by the German Federal Maritime and Hydrographic Agency (BSH)—and has offered the Ocean Protection System (OPS) as a simple, safe, and economical solution for ballast water treatment.
Ballast water treatment involves the removal of sediments and minute organisms. MAHLE Industrial Filtration has therefore developed a combined method based on precise coordination of three system stages.
The results speak for themselves: zero organisms in discharged treated ballast water, significantly lower than the IMO D2 standards. The use of chemicals or active substances (such as chlorides or bromides) is completely unnecessary—which increases operational safety and user-friendliness for the ships' personnel. Depending on the ship conditions, the OPS can be installed in a container, in a frame, or as a module (flexible footprint).
In the first and second stages, during ballast water intake, self-cleaning preliminary and main filters provide mechanical treatment. The flushed flow of concentrate is continuously discharged overboard at the site. The spreading of organisms is thus prevented. The filters used are designed for continuous filtration and are characterized by:

Effective separation of sediments, zooplankton, and phyto-plankton
Low pressure drop during operation
Low reduction in flow rate
Low-maintenance operation
In the third stage, a low-pressure UV emitter is used to disinfect the water by physical treatment during ballast water intake and discharge. The UV light, emitted at a wavelength of 254 nm, is at the peak of the spectral range of effective disinfection. This technology has the following advantages:
Very low energy consumption
Low operating temperatures of the UV lamps
Deactivation of 100% of all critical organisms
Long service life of the UV lamps
By forgoing the use of chemical additives, any potential for residual chemical contaminants in the water or overdosing is eliminated.
Experience with the OPS operation demonstrates that this technology ensures safe and reliable treatment of water of various quality levels (brackish, fresh, and seawater) without impacting the environment.
The OPS from MAHLE Industrial Filtration is characterized by safe and reliable onboard operation as well as low maintenance and operating costs.
About MAHLE
The MAHLE Group is one of the top 30 automotive suppliers and the globally leading manufacturer of components and systems for the internal combustion engine and its peripherals. Around 49,000 employees work at over 100 production plants and eight research and development centers. In 2011, MAHLE achieved sales of EUR 6 billion.
MAHLE's industrial activities are combined in the Industry business unit, which includes the divisions Filtration, Water Technologies, Engine Components, and Thermal Management.
Overview of industrial products
Filtration division
Filters and filter systems, equipment, and accessories for contamination control of hydraulic liquids and lubricants. Automatic filters for the filtration of liquids, pastes, and similar materials. Strainers for the filtration of combustible materials, lubricating oil, and even seawater. Filters for the dust filtration of air and gases. Systems solutions for liquid preparation: from oil removal to fuel treatment to the treatment of ballast, cooling, and waste water.

Water Technologies division
Hollow fiber membranes (micro/ultra/nano filtration) and fabric-reinforced flat diaphragms made from polyether sul-fone (PES) for water filtration (pools, drinking water, indus-trial process water) and product filtration (wine, for example).

Engine Components division
Pistons, piston pins and rings, cylinder liners, valve train components, camshafts, and bearings for large engines for shipbuilding, railway, and industrial applications, as well as for energy production.

Thermal Management division
Cooling systems for a diverse array of vehicles such as trains, buses, construction and agricultural machinery, air-craft, special vehicles, and cooling applications for gensets as well as wind and solar installations. Air conditioners and complete air conditioning systems for agricultural and construction machinery, buses, and special vehicles.