Article
Bosch Packaging Technology and Sartorius Stedim Biotech introduce PreVAS
Thursday, 21 June 2012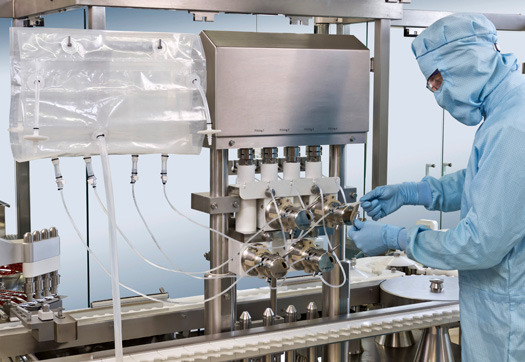 STUTTGART (DE) – Bosch Packaging Technology and Sartorius Stedim Biotech (SSB) announced a long-term global partnership agreement at Achema 2012 in Frankfurt/Main, Germany.
SSB is a leading international supplier of equipment and services for the development, quality assurance and production processes of the pharmaceutical and biopharmaceutical industry. The agreement between Bosch and SSB covers the mutual design and development of single-use filling solutions to be used on aseptic filling equipment from Bosch for final fill-and-finish operations of liquid pharmaceuticals. SSB will provide Bosch with pre-configured single-use filling transfer sets, consisting of bags, filters, tubing and connectors. Bosch will combine these sets with its aseptic filling and barrier isolation technology to form new systems for aseptic filling, and exclusively market, distribute and service these new filling systems under the Bosch brand.
Pre-validated, pre-assembled and pre-sterilized
With the new product line PreVAS (Pre-Validated, Pre-Assembled, Pre-Sterilized), Bosch will supply its customers with highly cost-effective plug and play tools which provide additional flexibility for aseptic filling operations backed by comprehensive validation packages.'By integrating SSB's single-use technologies into our aseptic filling systems, we are expanding our product and service portfolio in the area of fill-and-finish unit operations by an important component. With our joint expertise, we intend to develop configurable and customized single-use filling solutions and to provide strong validation and technical support'
Joachim Brenner, responsible worldwide for the Bosch Pharma Liquid portfolio and general manager at the Crailsheim plant, stated. 'The partnership with Bosch promotes the implementation of single-use technologies into critical applications such as final filling operations and strengthens the confidence in single-use technology' Jean Marc Cappia, Vice President Fluid Management Technologies, SSB specified, and added: 'Our customers from the pharmaceutical and bio-pharmaceutical industry are facing rising cost pressure and time constraints. By integrating singleuse technology into fill-and-finish unit operations, they can handle smaller batches and product changeovers in a safe, economic and flexible way'.
© BOSCH