Article
Neste Oil opens Europe's largest renewable diesel refinery
Tuesday, 20 December 2011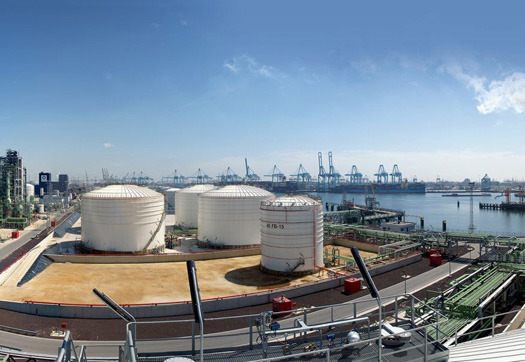 ROTTERDAM (NL) – Yesterday, 19 December, the Neste Oil renewable diesel refinery was opened in the Port of Rotterdam in the presence of the Dutch Deputy Prime Minister and Minister for Economic Affairs, Agriculture and Innovation Mr. Maxime Verhagen and some 150 other guests. The start-up of the Neste Oil's Rotterdam refinery took place in September 2011. It has an annual production capacity of 800,000 metric tons or 1 billion litres of renewable diesel and cost around EUR 670 million to build.
"Through hard work and cooperation among nearly 15 partners we have built this Europe's largest and finest renewable diesel refinery in just two years. As a location, the Port of Rotterdam has fulfilled all our expectations. It is centrally located in terms of our product and feedstock flows as well as within close proximity to our key markets and customers in Europe. Also the other chemicals plants in the area offering numerous synergy opportunities. Talent pool in Rotterdam is absolutely first class. The government of the Netherlands as well as Dutch authorities played an important role in supporting Neste Oil's investment in a renewable fuels plant which has been one of the biggest investments in the Netherlands over the recent years," says Matti Lievonen, President & CEO of Neste Oil.
"This refinery represents a huge investment in our economy and provides a boost to sustainable growth. It will help the Netherlands realise its ambitions as a leader of the bio-based economy and a major biomass hub in Europe," says Maxime Verhagen, Dutch Deputy Prime Minister and Minister for Economic Affairs, Agriculture and Innovation.
The annual volume produced in Rotterdam will be enough for more than half a million cars to run continuously on pure NExBTL. The emission benefits of the refinery's output will be equivalent of removing more than a quarter of a million cars from the roads. This means reducing greenhouse gases by a total of over 1.5 million tons annually. Like Neste Oil's three other NExBTL plants, the refinery in Rotterdam is ISCC-certified and capable of producing also renewable aviation fuel in the future. The facility is capable of using Neste Oil's wide feedstock base consisting of a variety of vegetable oils, by-products of vegetable oil refining (e.g. stearin), as well as waste oils and fats which all meet the stringent sustainability criteria included in the EU Renewable Energy Directive. The Rotterdam refinery is also capable of utilizing future feedstocks like algae oil.
Source: Port of Rotterdam authority