AKO Armaturen & Separations GmbH
Air operated Pinch Valves VMC series, multi-functional modular design
Friday, 23 September 2011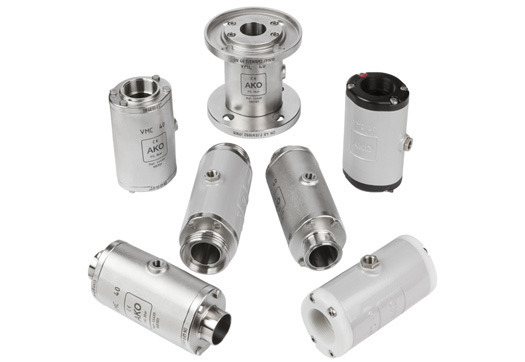 TREBUR-ASTHEIM (DE) – Air operated pinch valves of the VMC series are available in nominal diameters of DN010-DN050.
The new VMC series is based on a multi-functional modular system which enables flexible exchange of the two types of body available (aluminium and stainless steel) and a wide range of different collar caps/flange types.
The different connection options are:
Flange connection according to DIN EN 1092-1 PN 10/16 or ANSI B 16.5/150lbs
Internal thread connection according to DIN EN ISO 228 (G) or ANSI/ASME B1.20.1 (NPT)
Tri-clamp connection according to DIN 32676
Weld-on ends according to DIN 11850 series 2Threaded spigot (RJT connection) according to DIN 11851
Alternatively, aseptic pipe connections, aseptic flange connections or aseptic clamp connections can be welded on according to DIN 11864 and DIN 11853.
This wide range of different connection options and a selection of 12 different elastomer pinch sleeve qualities provide a very wide and almost unlimited range of use for the air operated pinch valves of series VMC.
The design specifications and focal points of AKO lay in an extremely compact and lightweight construction of the air operated pinch valves.
With the aid of the latest CAD software and intensive, economical fabrication, it was possible to achieve a weight reduction of up to 65% compared to previous series.
In addition to having a compact and very lightweight air operated pinch valve construction, greater value was also placed on very customer-friendly, simple assembly/dismantling of the pinch valve. This makes it possible for every customer to replace the pinch sleeve on-site in just a few minutes without needing any special tools.
The new converted design features of the VMC series pinch valve, in combination with a very economic price, open the door to many new applications in diverse branches and sectors of industry, such as food, drinks, chemicals and pharmaceuticals.
© AKO Armaturen & Separations GmbH