Article
Parker Hiross Zander Launch Paradigm-Changing HDK-CNG Dryer
Tuesday, 27 October 2015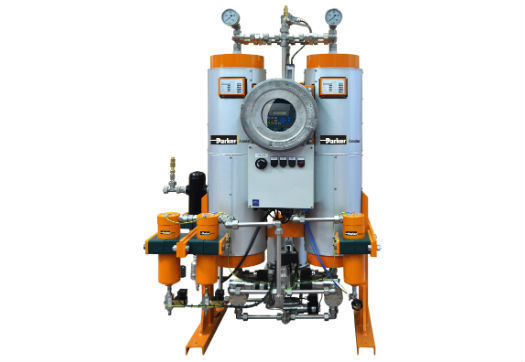 BALLERUP (DK) - Parker Hiross Zander a division of Parker Hannifin, have launched the innovative new HDK-CNG dryer range that uses a method of drying gas on the high pressure side of the compressor, which cuts cost, reduces unit size and increases overall efficiency.
The range offers a significantly more effective alternative to traditional suction side regenerative Compressed Natural Gas (CNG) dryers. CNG is used in traditional internal combustion engine automobiles that have been modified, or in vehicles specifically manufactured for CNG use. The increased availability and lower cost of natural gas is fuelling the drive towards conversion from petrol to gas powered vehicles. More than 30,000 CNG stations are operational globally and around 40,000 CNG stations are projected to be operational by the end of 2015.
For CNG refuelling equipment suppliers who need cost-effective equipment that can fit into limited installation space, the HDK-CNG dryer is the perfect solution. Unlike suction-side dryers, which tend to be large and therefore costly, the HDK-CNG dryer is installed on the discharge side of the compressor, thus significantly reducing the overall size. A smaller dryer means a reduction in capital cost, reduced maintenance costs and a significantly lower space envelope requirement.
Compared to a low-pressure CNG dryer, a high-pressure HDK-CNG dryer can provide the same gas quality but has the following benefits:
Smaller vessels, filters, pipework, etc.
Lower capital investment
Lower space envelope – important requirement in NGV fuelling stations
More efficient adsorption of saturated gas, so less adsorbent required
Smaller dryer means smaller heater = reduced power consumption
Reduced complexity for easier standardization
Reduced maintenance costs
Lower transportation costs


CNG purification equipment must deliver uncompromising performance and reliability while providing the right balance of gas quality with the lowest cost of operation. Many manufacturers offer products for the filtration and purification of CNG, which are often selected only upon their initial purchase cost, with little or no regard for the gas quality they provide, the cost of operation throughout their life, or indeed their environmental impact. When purchasing purification equipment, delivered gas quality, the overall cost of ownership and the equipment's environmental impact must always be considered.
The single most important safety requirement of Compressed Natural Gas (CNG) fuel is very low water dew-point temperature, which will preclude the formation of liquid water at any time. Liquid water is the precursor to the formation of corrosive compounds, and along with pressure cycling - caused by fuel consumption and subsequent refilling of the fuel storage container, can result in crack growth in metals, and ultimately damage and failure. Also, liquid water itself can be detrimental as it may cause blockages, in the fuel system.
Key facts on the HDK-CNG Dryers:
High Pressure operation up to 280 bar
Four models cover flow rates from 250 to 2,000 Sm3/h.
Ready for container installation
Includes Inlet Coalescing + Outlet Particulate Filters
Includes Water Separator on regeneration line
No gas loss (purge returned to compressor inlet)
High effective drying with 3-layer adsorbent bed
Low purge <5% of rated flow
Approved for PED 97/23/EC
Compliant with ATEX EXII 3G IIB T1.
In the field of air and gas drying, Parker Hiross Zander has set standards for more than 25 years and are acknowledged as leaders in adsorption, refrigeration and filtration technology.