easyFairs Europe SA
UAE Ministry of Energy Supports Tank Storage Middle East
Wednesday, 07 January 2015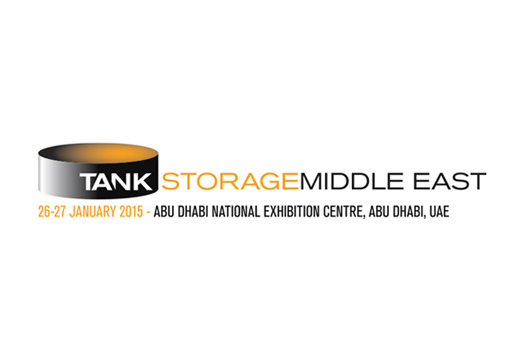 BRUSSELS (BE) - The UAE Ministry of Energy has just been confirmed as the official government supporter of Tank Storage Middle East, which takes place on 26 & 27 January at the Abu Dhabi National Exhibition Centre.
The UAE Ministry of Energy joins a strong line-up of show supporters which already includes Emirates National Oil Company, Star Energy Oiltanking, Empire Terminals, Gulf Petrochem Group, Siddco Group, GPS Chemoil, Horizon Terminals, Fujairah Oil Terminal and Gulf Refining Company.
Nick Powell, StocExpo & Tank Storage Portfolio Event Director comments: "We are absolutely delighted to have The UAE Ministry of Energy on board as a government supporter, joining the many major names within the industry who are partnering with us for our inaugural show. Its support is a huge endorsement for our event."
Tank Storage Middle East is the newest addition to the world's largest portfolio of bulk liquid storage events. Combining a top flight conference and exhibition, it is also the only event of its kind focused on tank storage in the critical Middle East region. This has attracted many major show supporters including Fujairah Oil Terminal, the first independent crude oil storage provider from Fujairah. Malek Azizeh, Commercial Director at Fujairah Oil Terminal says:
"Fujairah is proud to be joining efforts with Tank Storage Middle East to deliver an event that acts as a one stop shop for the Middle East tank storage market, sharing market trends and providing rich content via the two day conference."
Bahjat Adrian Tuffaha, General Manager at Gulf Refining Company elaborates on why his company is officially supporting the event:
"We are delighted to welcome a dedicated tank storage event to the Middle East. This will be a great opportunity to meet with manufacturers and also keep up to date with market movements via the conference."
For some show supporters, the Middle East is a new target market, which the show will help them penetrate. For others, with well established sales operations in the Middle East, it's an opportunity to deepen business in the region. Augustio Di Pietro, Director of Business Development at Siddco Group expands on this:
"Tank Storage Middle East is the perfect chance to keep abreast of the ever changing storage market in the Middle East. We are delighted to support the event and look forward to meeting with current and future clients."
With delegates from Shell, Exxon Mobile and Siemens already confirmed to attend, other show supporters see it as a strong opportunity to make new contacts. Captain Tarun Arora, General Manager at GPS Chemoil, sees networking as an important factor behind his company's decision to support the show:
"Tank Storage Middle East will provide an ideal platform for tank storage industry professionals to interact with peers and share their knowledge and experiences".
M. Prabakaran, Global Head of Terminals at Gulf Petrochem agrees:
"Gulf Petrochem is delighted to be partners of Tank Storage Middle East, sharing insights amongst the industry's leading professionals, whilst continuing to meet new peers in the ever evolving Middle East tank storage region."
Tank Storage Middle East 2015 features a strong two day conference programme, plus a packed exhibition hall, with over 85 suppliers from across the globe using the show to launch products & services into the Middle Eastern market. The free-to-attend exhibition will feature the latest developments in tank design, construction, maintenance, metering and measuring; to name a few.
For more information on visiting the exhibition, booking as a delegate for the conference or becoming a media partner, please contact Nick Powell, StocExpo & Tank Storage Portfolio Event Director on +44 (0)2088 438801 or email nick.powell@easyfairs.com.