K Controls Ltd
K Controls Extends its Range of Sub-sea Valve Position Monitors
Tuesday, 11 November 2014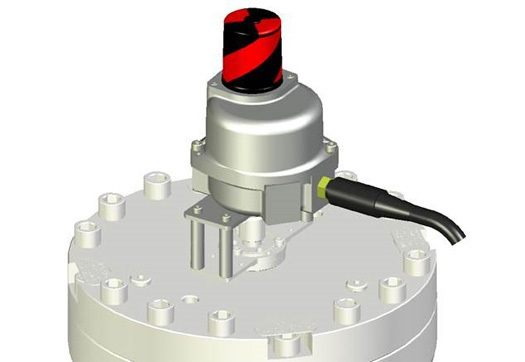 WEST DRAYTON (GB) – K Controls submersible valve position monitors can be fitted to a wide range of 1/4 turn or linear, sub-sea valve actuators.
4-20mA + HART® 5 or 7, PROFIBUS® PA or FOUNDATION™ FIELDBUS signals can be provided to continuously monitor valve position. End of travel proximity sensor inputs are also an option.
Submersible Ex i Valve Position Monitor
When not submerged, the position monitors could be in an area where hazardous gasses are present.
If this is the case they are supplied Exi or Exd, ATEX and IECEx certified. INMETRO is an option for Brazil.
Ex versions have been independently tested by SGS Baseefa, IP68 to EN 60529:1991, at a depth of 30 metres for 96 hours.
Most other units are designed for depths to 150 metres and special pressure balanced units are available for depths to 2500 metres. (Please click on image below left to view a unit in duplex stainless steel suitable for a depth of 400 metres.)
Ingress and operational testing is performed prior to despatch. Third party witness Sub-sea valve position monitor in duplex stainless steelinspection is also available.
Enclosures are available in a range of materials including carbon steel, 316L stainless steel, 254SMO stainless steel (20%Cr -18%Ni-6%Mo), Duplex 2205 and Super Duplex.
Optional surface coatings of the carbon steel and 316L stainless units include NORSOK M501 Rev 6 System 7B (Sub-sea) paint. (Please click on image below left to view version with NORSOK finish.)
A standard M20 or ½" NPT conduit entry is provided. Alternatively the base can be Sub-sea valve position monitor in carbon steel with NORSOK paint finishmachined to accept a customer specified sub-sea connector or cable penetrator.
Units with multi pin connectors can be supplied with the associated cable sets that meet the exacting standards required for both subsea and shipboard use.
Each cable set can be cut to a predefined length in order to facilitate installation.
Mounting kits for the actuators are usually manufactured from super duplex stainless steel.
Applications include rig positioning, sub-sea emergency shut down or manifold valves, dry docks and FPSO ballast tanks.