Robert Bosch GmbH
Bosch Launches a New Generation Inspection Machines
Tuesday, 25 March 2014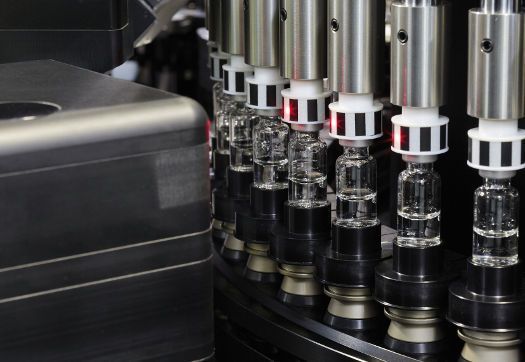 DUESSELDORF (DE) - At Interpack 2014, Bosch Packaging Technology, a leading supplier of process and packaging technology, reveals a vial inspection machine of the new AIM 8 series.
This machine is the first of the new generation of fully automated inspection machines by the Inspection Technology sector of Bosch Packaging Technology, which was founded in the beginning of 2012 following the acquisition of Eisai Machinery. In the future, the series will be completed by additional models to cover further parenteral liquid container types, such as syringes, cartridges and ampoules. The AIM 8 series is characterized by a modular design, which allows an easy adaptation of the machines to customer-specific requirements. "With its range of different modules, we can flexibly tailor the AIM 8 to customer specifications, for instance by choosing from standardized inspection units or adding an extra inspection table," Katsumi Shimizu, technical project leader at Bosch Packaging Technology K.K. in Japan explains.
Higher output and improved camera system
The basic module of the AIM 8 is equipped with a CMOS camera-based particle inspection system and a table for up to five inspection stations. Each station can in turn be equipped with a wide range of different inspection units. Most of these units combine two inspection types, leading to significant space-savings on the tables. Depending on their requirements, customers can expand this main module by connecting it to a sub-module containing an additional inspection table, as well as to a pre-spin table to reduce bubbles in the liquid or homogenize suspensions.
In contrast to previous series, a camera system is integrated into the main module as standard particle inspection unit. The new AIM 8 series is designed to inspect up to 600 containers per minute for product and cosmetic container defects, such as particles inside liquid pharmaceuticals or scratches and spots on the container. The machine model that Bosch presents at Interpack 2014 handles 450 vials per minute. Depending on product requirements and customer preferences, the proven light transmission-based SD (Static Division) system for the inspection of moving objects and fill levels is available as an option.
"During the development of the AIM 8 series, Bosch put special emphasis on standardizing core mechanical and electrical parts and inspection units to secure faster delivery of machines and service response times," Katsumi Shimizu explains. "Moreover, the puck transport system ensures quick and easy size changeover and safe container handling."
ETIM tablet inspection: a novelty outside of Japan
Bosch Packaging Technology presents another novelty at Interpack 2014. The fully automated inspection machine ETIM for tablets was initially developed exclusively for the Japanese market and now makes its first appearance outside of Japan. "Customer requirements regarding product quality are particularly high in Japan. We believe that our international pharmaceutical customers can greatly profit from these standards and our respective developments," Kenji Hanawa, vice president of the pharmaceutical Inspection Technology sector of Bosch Packaging Technology, explains.
The ETIM is designed to flexibly handle different types and shapes of tablets at output rates of up to 300 000 per hour. The inspection machine identifies tablet defects such as coloration, breakage, and foreign particles as small as 50 micrometers in size. The highly accurate camera-based imaging system ensures a 360 degree inspection of each tablet. It simultaneously inspects the tablet surface and its peripheral edge with a single camera, presenting the information as five images on the operating screens. The opposite side is inspected with the help of a precise tablet flip-over during transport. This leads to all-around inspection by avoiding blind spots or dead angles. "In addition, Bosch is currently working on a new generation for the global market with even higher precision and output," Kenji Hanawa concludes.