easyFairs Europe SA
Tank Storage Asia 2013 Unveils its Strongest Ever Conference Programme
Wednesday, 16 October 2013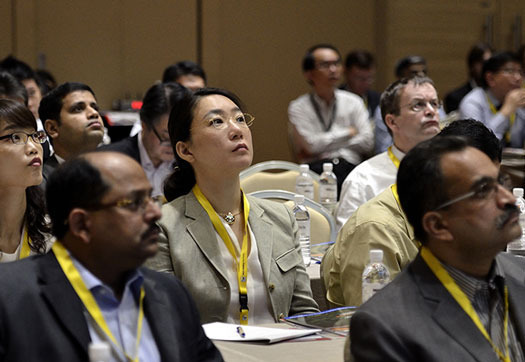 SINGAPORE - This year Tank Storage Asia will see over 20 leading authorities in the Asian bulk liquid storage sector deliver sessions on the critical issues spanning the whole region - from the Middle East to China and New Zealand.
Taking place on 10–11 December 2013 at Singapore Expo, the event has secured the strongest ever conference line up with a number of leading industry experts sharing invaluable commercial insights.
In a major coup, Xu Ruiqing, Chief Commercial Director at Sinopec Kantons, will share an insight into his company's domestic and global expansion plans. In the past year the company has signed several deals to buy or build major fuel storage facilities in Indonesia, the United Arab Emirates and Europe, raising HK$5.2 billion in the past 18 months to fund its expansion. His presentation on the second day will be a must-attend session for those with businesses on the expansion trail.
For attendees looking for their own ways to raise funds, William Hsu, Managing Partner at Sustainergy Capital is delivering a session on how to make your terminal appealing to a possible investor. He says: "Sponsors often get blind about their projects. This creates issues when you're trying to raise institutional financing. The more common mistakes include attractiveness of the geographical location, too high assumptions around throughput, poor terminal design resulting in much higher Project CAPEX and incorrect assumptions around insurance costs."
Many delegates are looking for ways to improve terminal profitability, efficiency and safety. In her talk speaker Binu Chaudhary, Regional Commercial Manager at Mott MacDonald in Singapore, will argue that front-end engineering is crucial. "Many companies get far into a terminal project and then start thinking about the engineering. Yet smart front-end engineering will transform a terminal's day-to-day operations and safety – yielding huge long-term savings. It will only increase overall terminal costs by 1-2%, but the potential time and cost savings could be absolutely enormous."
Health and safety is on most agendas and the programme offers an abundance of important industry knowledge. For instance, Stuart Chia, Principal at Sherpa Asia Consulting, is sharing the lessons to be learned from incidents such as Jaipur and Buncefield, while Prof. Yu, Member of the hugely influential China Standardization Committee, is clarifying China's standards both for breather valves and for the use of flame arresters.
In addition to providing practical, actionable advice, the Tank Storage Asia conference is renowned for delivering market data, and this year's programme is no exception. Chong Rok Park, President of the Ulsan Port Authority in the Republic of Korea, looks at Northeast Asia, the booming oil trade there, and the predicted imbalances in this region between supply & demand. Speakers also examine the markets of Indonesia and Malaysia, with Suresh Sivanandam, Senior Analyst at Wood Mackenzie analysing the flow of trade right across Asia.
The rise in LNG as a marine transportation fuel has big business development implications. To help delegates capitalise on this opportunity, Subbu Bettadapura, Director of Energy for Frost & Sullivan Asia Pacific, advises on which regions to look out for. Similarly, with the market set to grow by 45% by 2015, there is plenty of scope for port development across Asia; Per Cato Roed, Managing Director at BMT Asia, gauges the opportunities and outlines the local challenges.
When it comes to growth potential few markets compare with China and the conference has a world-class selection of speakers considering this critical market. For instance, Liao Na, Information Director at ICIS/C1 Energy quantifies overall Chinese demand and supply, plus outlines the major oil tank farm expansion projects set for the next five years. While for a longer-term perspective, Moe Merican, Lead Consultant at TRI-ZEN extends the timeframe, considering China's oil storage strategy and issues up to 2020.
Running alongside the conference, the free-to-attend Tank Storage Asia exhibition will feature latest product and service developments from 80% more exhibitors than in 2012, spanning the entire tank storage spectrum.
Tank Storage Asia takes place from 10–11 December 2013 at Singapore Expo, to find out more about attending visit www.tankstorageasia.com